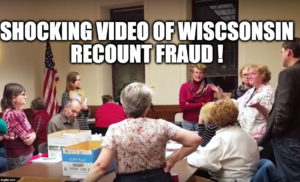 Dec 23, 2016
by Lee Camp
Look, I hate both of the major-party candidates who ran for President: Trump and Clinton. By questioning the laughable "recount" in Wisconsin, I am not trying to get Hillary elected or overturn Trump's victory. I merely want a genuine, accountable, verifiable election process. And right now, we have the furthest thing from it – and this video proves it.
New video has come to light showing just how ridiculous this recount charade was. Award-winning journalists Lulu Fries'dat interviewed volunteer recount observer Liz Whitlock. Whitlock reveals several examples of how far off the recount ACTUALLY was and how those running it REFUSED to do a HAND COUNT of only 300 ballots because the counting machines were so very wrong. I covered SOME of what Liz Whitlock witnessed on my TV show Redacted Tonight. You can watch that HERE.
Even though the election is over, it is increasingly important we keep the pressure on to drastically change our system. We have a completely corrupt and unaccountable voting system. It was rated the WORST in the WESTERN WORLD by a Harvard study. If we don't have an accountable democracy, we have NOTHING.
Keep Fighting,
Lee
(If you appreciate important breaking news like this, please become a member for as little as $5 a month – You'll find it in the sidebar to the right. You can also sign up for free newsletter updates in your email box – Just text the word 'REDACTED' to 444999. It's free.)