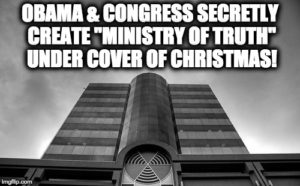 In Orwell's brilliant dystopian novel "1984," the all-encompassing government has a "Ministry of Truth" designed to decide what is "truth" and thereby keep "the people confused about who is at war with whom" and "what is their genuine reality." Doing so causes the masses to become "involved in nothing and, therefore, no threat to the power structure."
Late on Friday – in order to hide it underneath the Christmas tree when most people were ignoring news – Obama signed (after Congress passed) the National Defense Authorization Act. Buried deep inside the bill was the Countering Foreign Propaganda and Disinformation Act of 2016, which further cuts down on press freedoms – you know, that thing you read about in THE CONSTITUTION – and "seeks a 'whole-government approach without the bureaucratic restrictions' to counter 'foreign disinformation and manipulation,' which they believe threaten the world's 'security and stability.' " …Yes, I assume the irony of the fact that they're creating disinformation in order to counter "disinformation" is lost on them.
To quote one article about it – "H.R. 5181 would task the Secretary of State with coordinating the Secretary of Defense, the Director of National Intelligence, and the Broadcasting Board of Governors to 'establish a Center for Information Analysis and Response,' which will pinpoint sources of disinformation, analyze data, and — in a true dystopic manner — 'develop and disseminate' 'fact-based narratives' to counter effrontery propaganda."
What does this mean to you and me? Well, one can assume that if this Ministry of Truth had existed this past year, you would've heard almost nothing about Edward Snowden, the election fraud, the DNC leaks, the Podesta leaks, the truth about Syria and so much more. …All of which were covered this year on my show "Redacted Tonight" and many other alternative outlets.
And in fact the mainstream press that covered this very hush-hush signing made no mention of the new Ministry of Truth. …Because the first rule of creating a Ministry of Truth is "You do not talk about the Ministry of Truth."
You can read more about this HERE, HERE, and HERE.
Luckily Obama won't be in office much longer. So he's going to hand over this insane governmental-overreach-dystopian-future to Donald Trump… What a relief!
(Oh shit.)
Keep Fighting,
Lee Camp
(The crackdown on the truth has already begun. Facebook is not showing articles like this one to very many people. You can do two things right now to help. Share this article and PLEASE find another way to keep in touch with me. The best is to text the word 'REDACTED' to 444999. It's free and will sign you up for the email newsletter.)