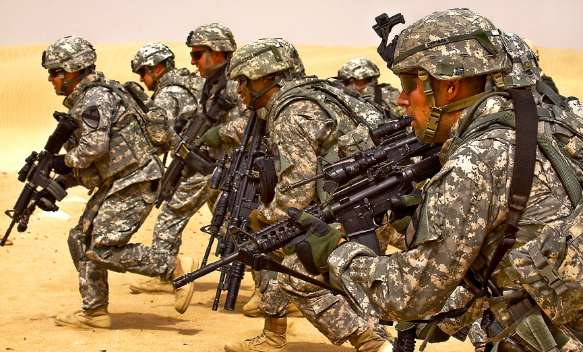 As the "War on Terror" rages on and on and on, it may be shocking to find out that US federal courts have only ever addressed the legality of a very small part of this seemingly "Forever War." Right after 9/11, Congress passed a statute authorizing military force against al-Qaida and the Taliban, who were deemed to be the groups directly responsible/connected to the attacks. With the release of the 
28 pages
, the long-speculated reality that most of the 9/11 hijackers were Saudi nationals was confirmed, but that's another story. Sadly, that 2001 Authorization for the Use of Military Force is still being used today to justify US military adventurism all over the globe – in places like Iraq, Yemen, Somalia, Pakistan and Syria. It is being used not just against al-Qaida, but now against ISIS, a terrorist group that didn't even EXIST when 9/11 happened.
No court has ever addressed the US government's legality for military force in all of these different places. It has all just spuriously been lumped together under the 2001 AUMF. …Until now. Finally, a federal district court in Washington, DC will hear a case filed by the ACLU. The premise of the case is whether or not the executive branch can use its open-ended claim of wartime authority to indefinitely detain a US citizen without any connection to 9/11. That US citizen was captured by Kurdish forces in Syria and handed over to US custody last September. The US government claims he's a "known enemy combatant" for ISIS. But 
according to the ACLU
, "Our client was actually kidnapped and imprisoned by ISIS, tried to escape, and never took up arms against the US or anyone else."
(Our reporting is possible thanks to heroes like you becoming sustaining members for as low as $5 a month – the same you might pay for a bag of movie popcorn.)
Regardless, as of now, the ACLU isn't litigating the US government's accusations that the detainee is a member of ISIS. They are litigating if the US government even has the legal authority to detain him at all, even if he was a member of ISIS at the time of his capture. And it appears that the legal gymnastics the government has to jump through to justify the detention are vast. Primarily, it's relying on that same 2001 AUMF. However, again, the parameters of that statute only authorize force against those responsible for 9/11; al-Qaida and the Taliban.
So here is how the government is putting a daisy-chain of connections together. They are claiming that because a terrorist group founded in 2003 in Iraq called "Jam'at al Tawhid wa'al Jihad" later renamed itself "al-Qaida in Iraq" and was, apparently, founded by an "associate" of Osama bin Laden, and then in 2006 they morphed into ISIS, therefore, ISIS is covered under the 2001 AUMF because, essentially, ISIS is al-Qaida. There's a major problem here, though. It's well documented that whatever relationship that al-Qaida and ISIS had has been soured since 2014, and, at present, the two groups 
fight each other openly
 in Syria. And beyond that, the 2001 AUMF was never meant to allow for ubiquitous detention and ubiquitous war. This ACLU lawsuit is a step in the right direction. But a lot more still needs to be done to close the gates on endless war, considering almost all Republicans and Democrats recently voted in lockstep 
against repealing
 the 2001 Authorization for the Use of Military Force. That's right, the legislative branch has handed unlimited war powers over to the 
unhinged Trump administration
. And yet some of them claim to be "the Resistance."
(Our reporting is being suppressed by F-book, Google, and YouTube. But we keep fighting thanks to heroes like you becoming

 

sustaining members

 for as low as $5 a month – the same you might pay for a bag of movie popcorn. One bag of popcorn per month. You can also give one-time donations or sign up for the free email newsletter in the sidebar to the right. )